Cooker Cleaning Service East Kilbride
Our cooker cleaning service East Kilbride covers areas such as Eaglesham and Auldhouse.
As we are based relatively close to East Kilbride, we have worked closely with a number of clients in the area and are extremely proud of the fantastic reputation we have built. This reputation has been gradually built up by the fantastic services we provide for each and every one of the customers we visit.
Customers often ask how we can clean an oven and cooker better than they can.
The answer is that we are specially trained in oven and cooker cleaning, use cleaning products not available to the public.
Using the right cooker cleaning tools and equipment speeds the cleaning to a level difficult to achieve with home cleaning methods.  experience counts for a lot,
The hot fluid dip-tanks in the specially adapted van that parks outside your door, soaks off congealed grease and baked-on food spills at lightning speed – in under an hour.
Van Parking in East Kilbride
Because the warm fluid soaking tanks in the van are needed during the cooker cleaning process, there must be vehicle parking outside or very close to a customer's home.
Our technicians use special professional oven cleaning products that are:

Non-caustic
Non-toxic
Eco-friendly
Child-safe
Pet-safe
Guaranteed 100% biodegradable.
Our entire oven cleaning process produces no noxious fumes, gases or lingering odours.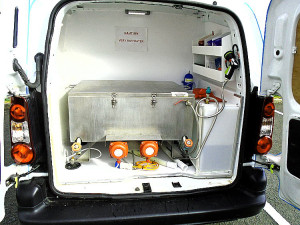 Our vans are unique and designed especially for us, with insulated thermal tanks. These keep the cleaning fluid warm during the day for effective cleaning of the cooker parts.
The entire process is simple:
We bring everything required with us.
Our technician inspects your appliance while you are present
They check for scratches or damage and give you the opportunity to ask any questions.
Our technician may take photos of your cooker, to make sure they put the knobs, screws or hinges back in the correct places.
Oven doors are removed to make sure that each area is accessible.
Glass doors, racks and shelves are removed to the van. Ask your technician if you have any trays you'd like cleaned at the same time.
In the van, the items are placed in the dip tank and left to soak while the oven cleaning takes place.
In the Kitchen
Protective sheets are laid on the floor to collect any grease, crumbs or carbon scrapings.
After the cooker cleaning, we just roll up the sheet and take any debris with them when they leave.
Your appliance will receive a deep clean using only the highest quality products. Depending on the level of service required, filters and bulbs are changed at this point.
Finally the items in the tank are rinsed, dried and brought back inside.
The appliance is reassembled and tested to ensure everything is working to your satisfaction.
Your Cooker Will Be Ready to Use Right Away!
Call us now for a chat about your appliance and get a quote.
Check out our Oven Cleaning Prices with Extras that cover a whole cooker.
For AGA and Range Cooker Owners check out our AGA Cleaning Page
Found for Oven Cleaning East Kilbride.